ECG cable-ECG lead wires Manufacturer
the distribution of lead wires manufacturer overview
As an old upstream leading ECG cable lead wires manufacturer for worldwide ICU Patient Monitor System Accessories Manufacturers.ECG cable supplier are Our customers, themselves are finished ECG patient cable manufacturers.World-widely,China manufacturers takes up about 75% of all ECG EKG assembly companies.We focus on Reusable ECG lead wire customization and producing.All ECG/EKG leadwires we even customized&produced are over 1000 types.OEM and ODM is our main service.
 Our ECG Lead use tinned copper,silvered copper or Tinned/silvered Tinsel or carbon-fiber.
Carbon fiber is almost transparent on x-ray and other imaging equipment because of its property . So patients DO NOT  need to remove the electrode wires  before imaging—providing an invaluable safeguard to the patient ,especially who need 24 hours monitoring. Carbon fiber also used in AED Pads cable because of this reason .Flexibility is another important  reason ,our 1-Million bending test ECG leads use Carbon-fiber 
In this ECG Craiglist,We only show a small part of them.Items listed on this Craiglist are supplied to world famous brands,such as Medtronic,GE,Philips,Masimo…
Focused on following ECG cable and lead wires manufacturing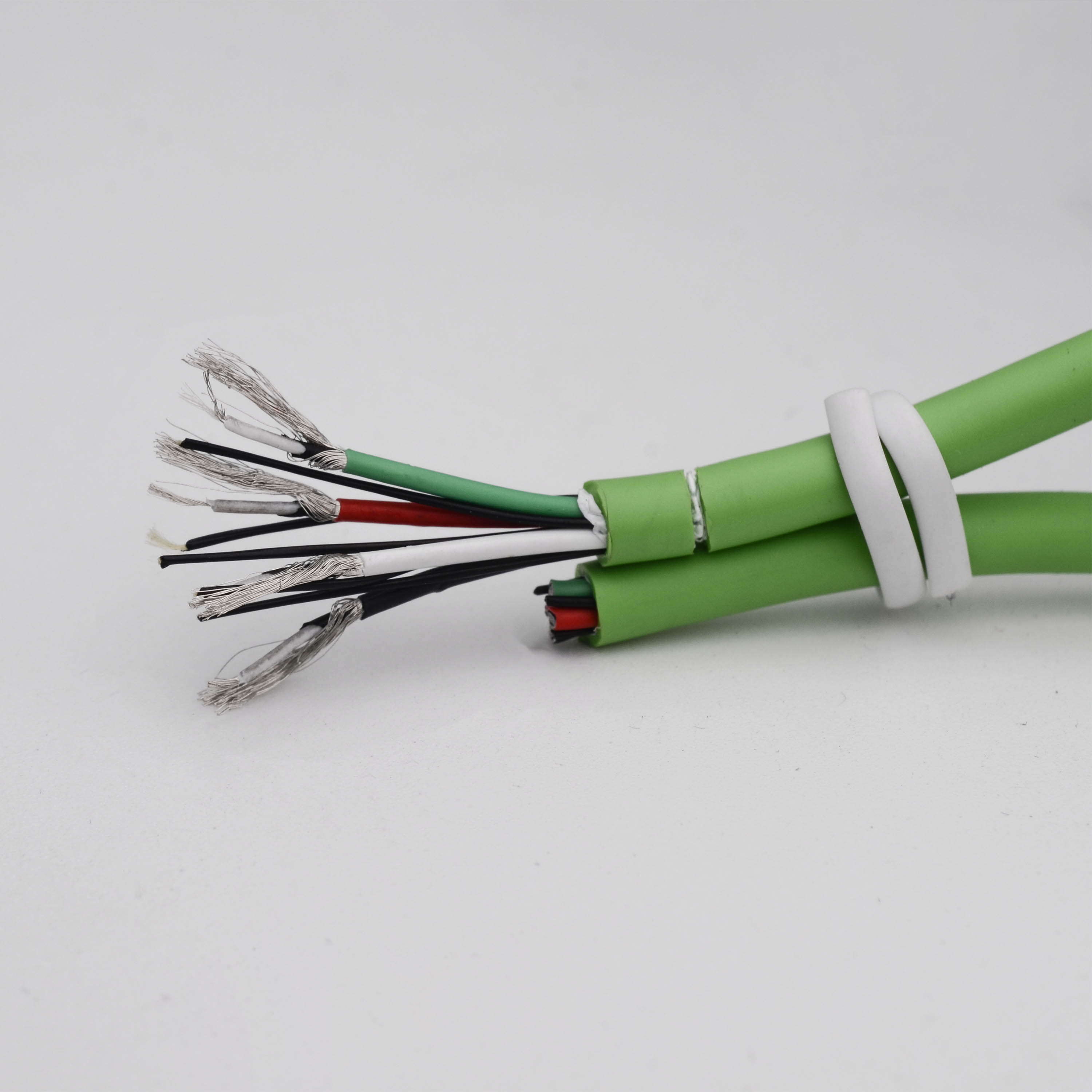 EC204S-001
ø4.0士0.20;11/0.05TSN;Graphene Low Noise Layer;TPU (5040)
6 leads ECG cable-Low Noise
7 Leads ECG cable-Low Noise
If you are ecg cable suppliers ?
We have many advantages over normal cable manufacturers.we have been serving ECG cable suppliers for many years.the problems no matter they are about quality,lead time or new products development,we are experienced.we will provide free design and can also help you to test samples from other cable manufacturers to tell apart the difference between us.
They Are Qualified To Replace The Leadwire/ Trunk Cable For Following Brand ECG Cable
Brand

Model

Smiths Medical > BCI

3101, 3404, 6100, 6200, 9100, 9200, Advisor, Autocorr, Autocorr: Surgivet

Digicare

LW600

PaceTech

2100, 2200, 4000, 4100, MiniMax 4000CL, Minipack 300, Minipack 3000, Minipack 3000/3100, Minipack 3100, Modular/4100CL, Vitalmax 2100, Vitalmax 2200, Vitalmax 4000, Vitalmax 4000 Modular, Vitalmax 4000CL, Vitalmax 4100, Vitalmax 4100CL, Vitalmax 800 Plus

GE Healthcare > Corometrics

556

Infinium

Infitron II, Omni, Omni II

Draeger

Vitalert 2000, Vitalert 3000

Draeger > Air Shields

HRRM-71-1, HRRM-71-2, II, III, Porta-Fib I, Porta-Fib II, Porta-Fib III, System 5 (New), System 6 (Neonatal)

Nihon Kohden

7102A, BSM-7102A, BSM-7300A, BSM-8108A, BSM-8301A, BSM-8302A, BSM-8500A, BSM-8502A, BSM-8800A, Life Scope 12, Life Scope 6, Life Scope 7, Life Scope 8, Life Scope 9, MU-831RA, OEC-6102A (s/n>20156), OEC-6105A (s/n>20226), OEC-7102A, OEC-8108A, TEC 5531E, TEC-5200A (s/n>20421), TEC-7100A, TEC-7200A, TEC-7300A

Guthan

1000

Conmed

90347

LSI

261, LS5

Spacelabs

400, 500, 600, 67112, 900, 90300, 90303, 90303B, 90308, 90400, 90408, 90425, 90428, 90431, 90432, 90470, 90600, 90603A, 90700, 90701, 90721, 90724, AriaTele, Medic 3, Medic 4, Medic 5, Medic 6, PC Bedside, PCMS, Series 500, Series 600, Series 900, TEK-208, TEK-208/408/511/512/514/521, TEK-408, TEK-413, TEK-414, TEK-511, TEK-512, TEK-514, TEK-5214045

ATL

800, 800 Plus, 800Plus, Apogee, CX ATL Ultrasound, CX200, CX400, HDI 9/200, HDI 9/2000, Interspec Cardiology XL, Mark IV, Mark Vii, Ultramark 4/5/7/9

DRE

Waveline EZ MAX

PPG

Guardian 1001, N1001

Abbott

EX-50, Lifecare 5100, Lifecare 5200

Carewell

CPM-8000

Advanced Instrumentations

PM-1000, PM-1000EX

Philips

iE33 xMatrix Ultrasound CX50, M3921A A1, M3923A A1, M3925A A1, M3927A A3, M3929A A3

Interspec (Irex) (JJ)

Cardiology XL, Mark IV, Mark Vii, Ultramark 4, Ultramark 4 Plus, Ultramark 5, Ultramark 7, Ultramark 9

Novametrix

902, 903, 910, Life Defense 1

Contec

CMS 6800, CMS 9000

Midmark > Cardell

9403V, 9405, Max-1, MAX-12 Duo HD

Datex Ohmeda

enGuard CM5

Goldway

G40, UT4000A, UT4000Apro, UT4000B, UT4000C, UT4000F, UT4000F Pro, UT4800, UT6000A, UT6000F

Medtronic > Physio Control

1440/R, Lifepak 10, Lifepak 5, Lifepak 6, Lifepak 6S, Lifepak 7, Lifepak 8, Lifepak 9, VSM-1ESF, VSM-2, VSM-2ESF, VSM-3

Tektronix

4045 Defib/208/400/500 Series

Mindray > Datascope

MEC 1000, MEC 1200, MEC 200, MEC 2000, PM 7000, PM 8000, PM 9000

Criticare

1100, 2200, 504US, 504USP, 506, 507, 507E, 507ELC2, 507S, 508, 602-4B, 602-4USP, 8100, 8100E, 8100EP, nCompass, nGenuity 8100E, Poet 2, Scholar

AAMI

All

GE Healthcare > Critikon > Dinamap

8100T, 8700 Series, 8700/9700, 9700 Series, MPS Select, Pro 1000

Edan

M50, M8, M80, M8A, M8B, M9, M9A

Covidien > Nellcor

C-LOCK, N-1000, N-200, N-250, NPB-3900, NPB-4000

Invivo

101, 102, 200, 300, 360SL, 450SL, 521A, Escort 100, Escort 101, Escort 102, Escort 200, Escort 300, Millennia 3500, PortaPak 1000, PortaPak 80, PortaPak 90, PortaPak 90/1000, Prism

Mediana

YM6000

Omron > Colin

BP-308, BP-408, CBM3000, M20, M30, MS20

American Optical

26125, 33167, 5260, 5330, Pulsar 4

DIN Style

All

Ivy Biomedical

101, 101 (before 1989), 402, 700, 7800, Cardiac Trigger Monitor 3150, 3000

Welch Allyn

1500, Atlas, Atlas 6200 Series, PIC 30, PIC 40, PIC 50, Propaq 100 Series, Propaq 200 Series, Propaq 206 EMPSC, Propaq CS, Propaq Encore, Ultra Smart

Zoll

D900, E Series, M Series, PD1200, PD1400, PD1600, PD1700, PD2000, R Series
Not find  the exact cable to meet requirement? need a customization
Leave us your Specification or Engineer structure!!!