Defibrillator Paddle cable & AED Electrodes Pads Cable
Defibrillator Pad Overview
In the past, As the patient Monitor system accessories manufacturing center, China was focused on some basic items, such as ECG cable,EKG cable,EEG leads,Spo2,ESU Pencil….As the upstream cable supplier, China medical cable suppliers seldom engaged in AED cable wire development for Defibrillator Pad and paddles.
Until Mindray developed China First AED(automated external defibrillator) in 2009,the global AED market changed,AED is no more a devices only Hospital can afford. Defibrillator price decreased 50%.Till 2009,Mindray become the Fourth Main AED manufacturer besides of Phicon,ZOLL,Philips
China Medical cable manufacturer start to custom AED cable ( AED leads) to interconnect between its power unit and the patient paddle or Pads.
 AED electrode pads become a mainstream,compared with Paddles,AED Pads/Gel are used to reduce transthoracic impedance when paddles are applied directly to the chest wall to deliver a shock. Better protective for patients and doctors. Especially with Mindray intellectual AED, an un-trained person can also make an emergency rescue under the guide of the defibrillators' screen and voice
Trunk and Branch AED cable for External Defibirllator Paddle
AED leads for Electrodes Pads & Gel
What is Difficulty in AED cable wire R&D and production
As a main first aid life saving devices, Zero-failure is the common will for the paddle/Pads manufacturer and defibrillator cable wire manufacturer. Any Lead failure may lead to death or heart damage.
PS:
Lead failure was defined as: failure to capture/sense, abnormal pacing and/or defibrillator impedance, visual insulation defect or lead fracture, extracardiac stimulation, cardiac perforation, tricuspid valve entrapment, lead tip fracture and/or lead dislodgment
What we do to conquer these challenge faced with defibrillator pad
As a cable partner for two of the world top 4 AED brand, the cable we developed for AED electrodes and defib pads are always exceeded their requirements.
 Considering some special situation, such as a Patient who may need rescue at any time, so a Defib pads may with him/her 24 hours. During this period, he/she may need an imaging, like X-ray, metal should be removed.so we design a Carbon fiber conductor based AED leads. Carbon fiber is almost invisible on x-ray and other imaging devices.
Non-metals, such as Carbon Fiber (Carbon fiber is radio translucent, making it an excellent material for EKG leads and defibrillators.)
Defibrillator pad cable Features
Conductors Materials for Defibrillator cable Leads
Carbon Fiber

Tinned Copper

Silvered copper

Alloy Copper

Tinsel
Insulation Materials for Defibrillator cable Leads
Shielding Methods & Materials
Conductive tape

Aluminum-Mylar Foil

Tinned/silvered Copper Braiding

Graphene Mixture ink coating

Spiral-Serve
Defibrillator pad cable Manufacturing procedure
you maybe also need following customized AED cable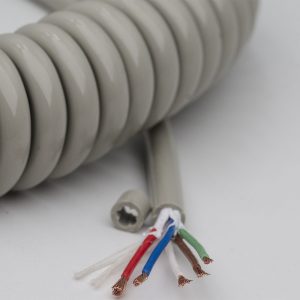 Teflon Coiled cable CO205x Medical class coiled cable for" Automated External Defibrillator" Paddle Features Telfon Insulator for all the wires,bright TPU Jacket 1*20AWG high voltage wire 4*24AWG singla wire technical specification 1:Specification:134/0.07BC*1C+60/0.07BC*4C+PTFE 5.2 MM TPU
Read More »