Medical Composite Cable Of 3Cx26 AWG ECG 5CX30AWG SPo2 And 2CX26 AWG Temperature Sensor
This Medical Composite Cable Of 3 wires 26 AWG ECG, 5 wire (1P+3 wire) 30AWG for SPo2 And 2 wire 26 AWG for Temperature Sensor ,we can also custom composite cable according to your requirement.
In Patient Monitoring system,Usually a medical composite cable can not include too many wires inside the jacket considering the Connector   Diameter and interface on the monitor.
If the Components of ECG wire quantity is range 3-5 wire,and Components of Spo2 wire quantity range from 1P+3Wire to 1P +6 wire,the overall diameter will almost remains the same as this one.
If you are sourcing a medical composite including other types of signals,please send us your detailed requirement.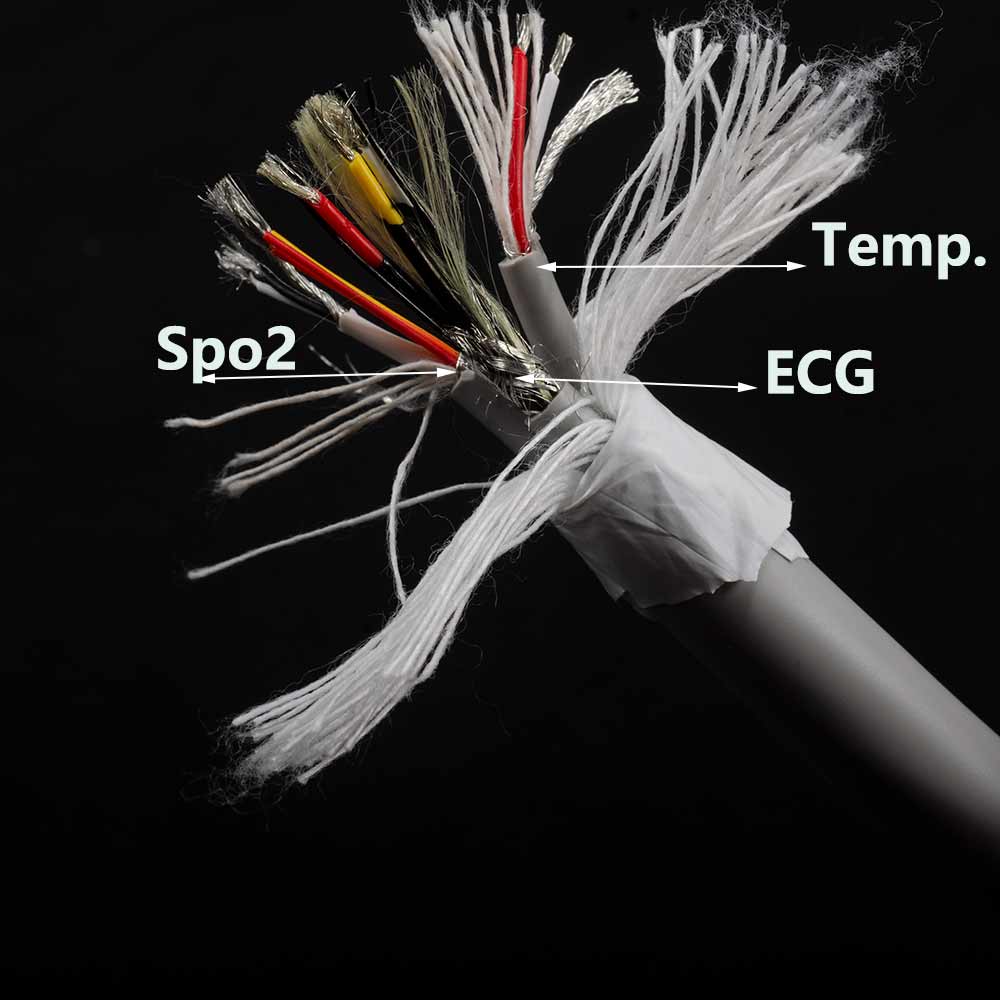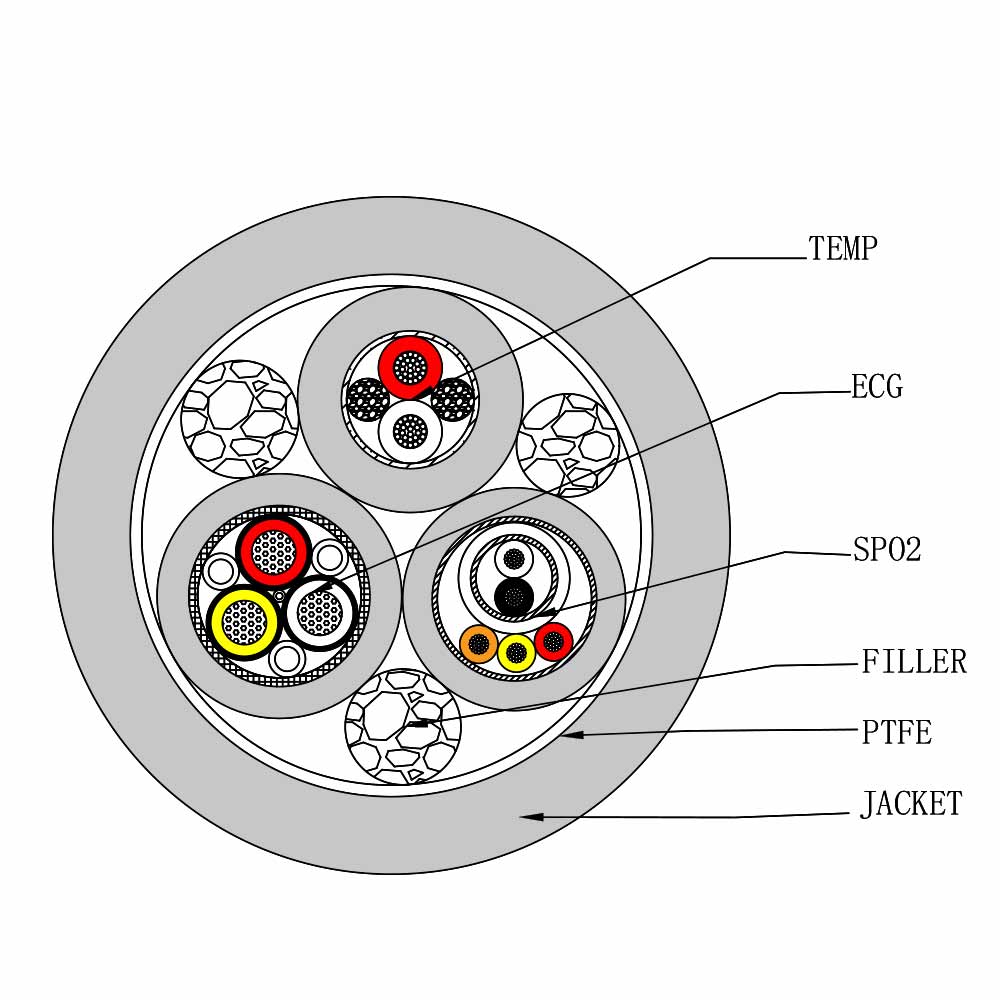 Component

ECG cable

Spo2 Cable

Temperature Cable

Condoctor

Material

TINNED  COPPER

TINNED  COPPER

TINNED  COPPER

AWG

26 AWG

30 AWG

26 AWG

Construction

 

25/0.05TC+250D

19/0.10TC+200Dkevlar

Direction/Pitch

Right 6±1mm

Right 6±1mm

Right 7±1mm

Stranded O.Dmm

0.52±0.1

0.3

0.52

Insulation

Material

PE

PE

PE

NO of wire

3C

5C

2C

O.D mm

1.1±0.05

0.65±0.05

1.0±0.05

AVG. Thickness mm

0.25

0.17

0.24

Min. Thickness mm

 
 
 

Color

White/Red/Yellow

White/Red/Yellow/Black/Orange

White/Red

inner Jacket

Material

 

PVC

N/A

O.D mm

1.25±0.05

1.65±0.05

N/A

Cabling

Pitch mm

40±10

40±10

40±10

Material

1:1000DKEVLAR+




2:+KEVLAR0.45MM*3C

10S/3*2C

10S/3*6C

Outer shield

Material

Braid

Spiral

 Spiral

Coverage

90%

90%

90%

Jacket 1

Material

TPU 5040

TPU 5040

TPU 5040

O.D mm

4.0±0.15

3.3±0.15

3.3±0.15

AVG. Thickness mm

0.55

0.5

0.5

Min. Thickness mm

0.44

0.4

0.4

Color

 

 

 

Mark

N/A

N/A

 

Cabling

Pitch mm

110±20

Material

+

Jacket 2

Material

TPU 5040

O.D mm

10.5±0.25

AVG. Thickness mm

1.2

Min. Thickness mm

0.9

Color

TBD

Mark

N/A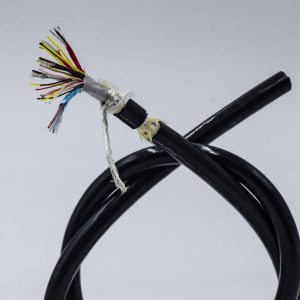 Biocompatible Silicone & TPU materials, customized designs and structures with extremely small diameters, enhancing patient comfort and achieving lasting sterility of flexible endoscopes
Read More »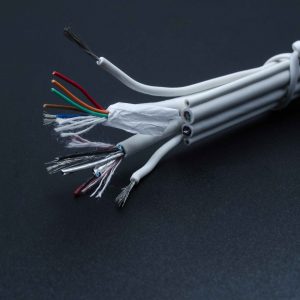 This Flat AED cable used to interconnect the Power unit and Electrodes Pads/Gel of ZOLL defibrillator.AED Pads is more and more becoming a mainstream in emergency rescure heartstart
Read More »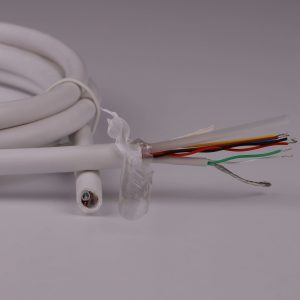 7 core special purpose medical cable with air pipe CAPACITANCE: <47.6 pF/m PROPAGATION DELAY: ≤ 4.79 ns/m 4 WITHIN PAIR SKEW: < 16.4 ps/m LOSS: ≤ 1.0 [dB/M] AT 400 [MHz] TWISTED PAIR CREATED USING
Read More »