UL2464 braided computer cable (double shielded)
Applications:
Computer cables for ETA RS-232 and CAD/CAM applications.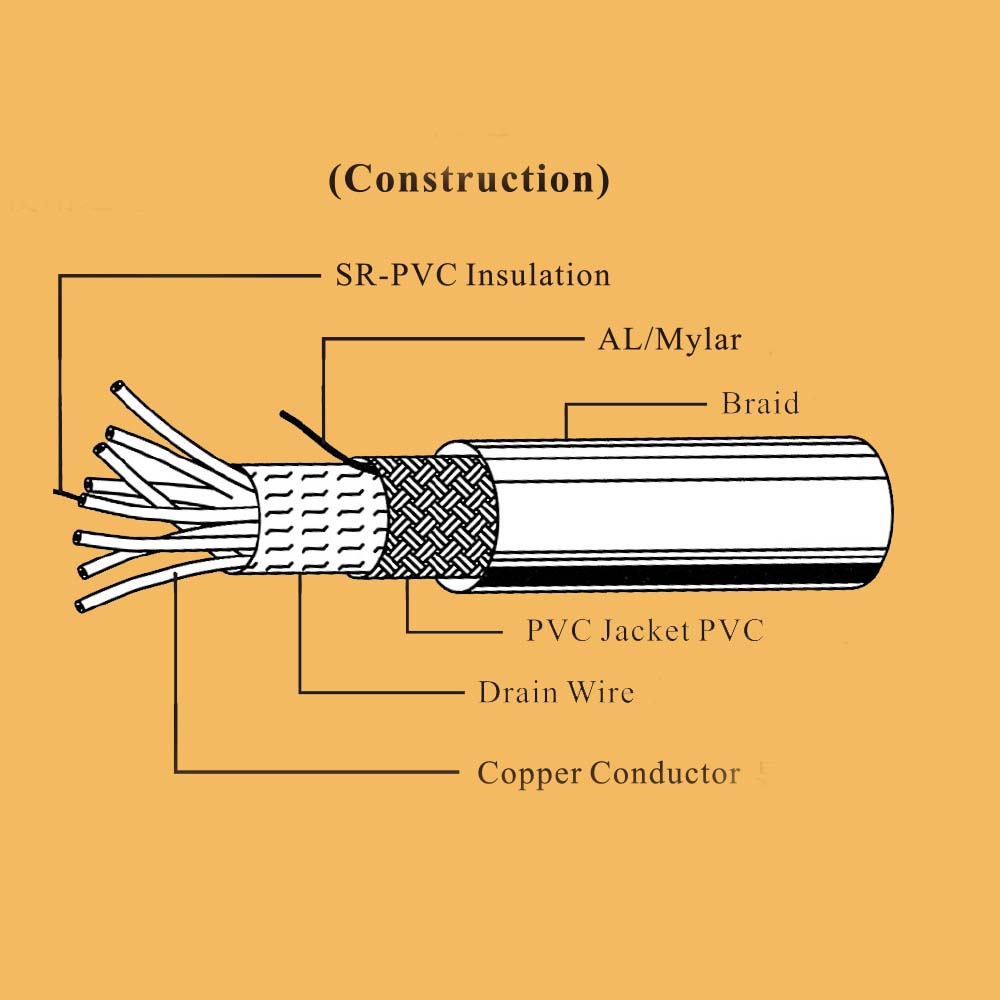 Product description:                          
Tinned or bare, stranded copper conductor.                    
Color-Coded semi-rigid PVC insulation, similar to UL 1061.                    
Cores cabled under aluminum mylar shield.                     
Tinned or bare stranded copper drain wire.                    
Drain wire laid between aluminum mylar and braid.                      
Tinned or bare copper wire overall braid more than 85% coverage                         
PVC jacketed multi-core compurer and data transmission cable.                   
Standard or larger overall diameter is available.                    
Rated temperature:80t Rated Voltage:300 Volts.                   
Passes UL VW-L vertical flame test.                          
Remark                       
The product obtains approval of CL2 Flame Test.                   
The product obtains approval of Japan JQA-F-TEST.
Part No.

Conductor

Insulation

Thickness (UL)

No. of core

Braid

Jacket


Thickness (UL)

Overall


Diameter

 
 
 

No.

 
 
 

AWG

No. /mm

mm

mm

nun

mm

mm

246400003190228
28
7/0.127


19/0.08

0.23
2

16*4/0. 12

0.76
4.00
246400003190328
3

16*4/0. 12

4.50
246400003190428
4

16*5/0. 12

4.50
246400003190528
5

16*5/0. 12

5.00
246400003190628
6

16*6/0. 12

5.00
246400003190728
7

16*6/0. 12

5.50
246400003190828
8

16*6/0. 12

5.50
246400003190928
9

16*7/0. 12

5.50
246400003191028
10

16*7/0. 12

6.00
246400003191128
11

16*7/0. 12

6.00
246400003191228
12

16*7/0. 12

6.00
246400003191328
13

16*8/0. 12

6.00
246400003191428
14

16*8/0.

12

6.50
246400003191528
15

16*8/0. 12

6.50
246400003191628
16

16*8/0. 12

6.50
246400003191728
17

16*8/0. 12

6.50
246400003191828
18

16*9/0. 12

7.00
246400003191928
19

16*9/0. 12

7.00
246400003192028
20

16*9/0. 12

7.00
246400003192528
25

16*10/0. 12

7.50
246400003193628
36

24*8/0. 12

9.00
246400003194028
40

24*8/0. 12

9.50
246400003195028
50

24*9/0. 12

10.50
246400003196828
68
24*10/0.12
11.00
Part No.

Conductor

Insulation

Thickness (UL)

No. of core

Braid

Jacket


Thickness (UL)

Overall


Diameter

 
 
 

No.

 
 
 

AWG

No. /mm

mm

mm

mm

 

mm

246400003190226
26
7/0.16


19/0.10

0.23
2

16*5/0. 12

0.76
4.50
246400003190326
3

16*5/0. 12

5.00
246400003190426
4

16*6/0. 12

5.00
246400003190526
5

16*6/0. 12

5.50
246400003190626
6

16*7/0. 12

5.50
246400003190726
7

16*7/0. 12

5.50
246400003190826
8

16*7/0. 12

6.00
246400003190926
9

16*8/0. 12

6.00
246400003191026
10

16*8/0. 12

6.50
246400003191126
11

16*8/0. 12

6.50
246400002191226
12

16*8/0. 12

6.50
246400003191326
13

16*9/0. 12

7.00
246400003191426
14

16*9/0.

12

7.00
246400003191526
15

16*9/0.

12

7.00
246400003191626
16

16*9/0. 12

7.50
246400003191726
17

16*9/0. 12

7.50
246400003191826
18

24*7/0. 12

7.50
246400003191926
19

24*7/0.

12

7.50
246400003192026
20

24*7/0. 12

7.50
246400003192526
25

24*8/0.

12

8.50
246400003193626
36

24*9/0.

12

9.50
246400003194026
40

24*9/0. 12

10.00
246400003195026
50
24*10/0.12
11.00
Part No.

Conductor

Insulation

Thickness (UL)

No. of core

Braid

Jacket Thickness (UL)
Overall Diameter
 
 
 

No.

 
 
 

AWG

No. /mm

mm

mm

mm

mm

mm

246400003190224
24
7/0.16


19/0.127

0.23
2

16*5/0. 12

0.76
4.50
246400003190324
3

16*5/0. 12

5.00
246400003190424
4

16*6/0. 12

5.00
246400003190524
5

16*7/0. 12

5.50
246400003190624
6

16*7/0. 12

5.50
246400003190724
7

16*7/0. 12

6.00
246400003190824
8

16*8/0. 12

6.00
246400003190924
9

16*8/0. 12

6.50
246400003191024
10

16*8/0. 12

6.50
246400003191124
11

16*9/0. 12

6.50
246400003191224
12

16*9/0. 12

7.00
246400003191324
13

16*9/0.12

7.00
246400003191424
14

16*9/0. 12

7.50
246400003191524
15

16*10/0. 12

7.50
246400003191624
16

16*10/0.12

8.00
246400003191724
17

16*10/0.12

8.00
246400003191824
18

24*8/0.12

8.00
246400003191924
19

24*8/0.12

8.00
246400003192024
20

24*8/0.12

8.50
246400003192524
25

24*9/0.12

9.50
246400003193624
36

24*10/0.12

10.00
246400003194024
40

24*10/0.12

10.50
246400003195024
22

17/0.16

0.23
50

24*11/0.12

 
11.50
246400003190222
2

16*6/0.12

5.00
246400003190322
3

16*6/0.12

5.50
246400003190422
4

16*7/0.12

6.00
246400003190522
5

16*7/0.12

6.50
246400003190220
20

21/0.18

0.23
2

16*7/0.12

 
5.50
246400003190320
3

16*7/0.12

5.50
246400003190420
4

16*7/0.12

6.50
246400003190520
5

16*8/0.12

6.50