JIS C 3051 coaxial cable Transparent PE insulation

Applications:
For use in communication and signal control systems.
Or as connecting or internal wiring for HF(high frequency) machines.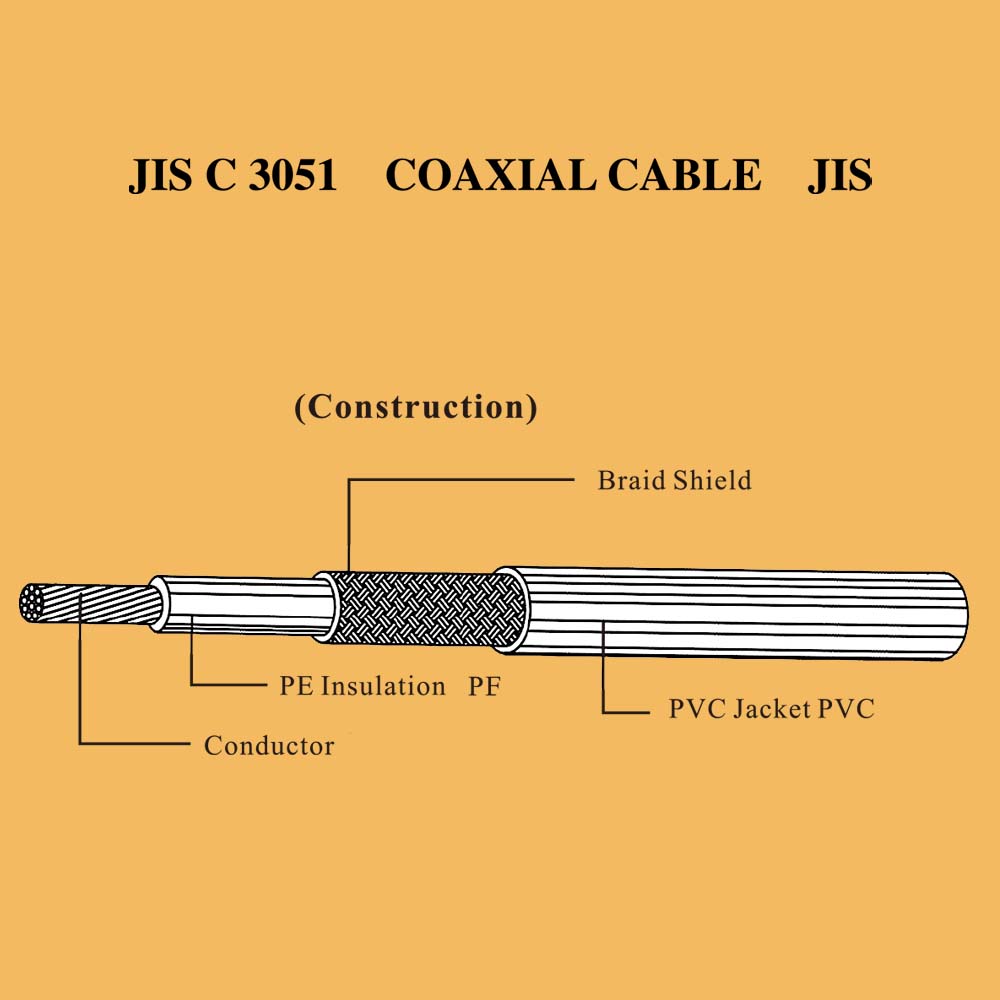 Solid or stranded bare copper, or copper clad steel conductor.              
Transparent PE insulation.               
Aluminum mylar longitudinal shield is available.             
Bare copper wire braided shield, more than 95% coverage.          
Color-coded PVC jacket.          
Low losses and low propagation delays. Crosstalk kept to minimum.            
Refers to JIS C 3051.                
Special design on 'Commercial Applications' is also available upon customer's request.
Product


Name

Conductor

Insulation

Inner


Braid

Outer


Braid

Jacket


Thickness

Overall


Diameter

Material

Diameter

Material

No./mm

 
 
 
 
 
 

mm

mm

No./mm

mm

mm

1.5C-2V

CCS

1/0.26

LD-PE

1.60

16X5/0.10

 
0.40
2.90

2.5C-2V

BC

1/0.40

2.40

16×6/0. 12

 
0.50
4.00

3C-2V

BC

1/0.50

3.10

16X6/0.12

 
0.80
5.40

3C-2VCS

CCS

1/0.50

3.10

16×6/0. 12

 
0.80
5.40

3C-2VS

BC

7/0.18

3.10

16×6/0. 12

 
0.80
5.40

5C-2V

BC

1/0.08

4.90

16×8/0. 12

 
0.90
7.40

5C-2W

BC

1/0.08

4.90

16X8/0.12

24*7/0.12
1.0
8.30

1.5D-2V

BC

7/0.18

1.60

16×5/0. 10

 
0.4
2.90

2.5D-2V

BC

1/0.80

2.70

16X7/0. 12

 
0.5
4.30

3D-2V

BC

7/0.32

3.00

16×6/0. 14

 
0.80
5.30

5D-2V

BC

1/1/40
4.80

16X8/0.14

 
0.90
7.30

5D-2W

BC

1/1/40
4.80

16×8/0. 14

24*7/0.12
1.0
8.20
Product
Name

Nominal

Impedance

Velocity of

Propagation

Nominal

Capacitance

Nominal

Attenuation

Insulation

Resistance

Conductor

Resistance

(Max.)

Dielectric

Voltage

 
 
 
 
 
 
 

(100MHz)

10%(10MHz)

Nf/Km(1KHz)

dB/Km(10MHz)

MΩ /Km
Ω /Km

KV

1.5C-2V

75+3

66+2

69 +4

96
1,000
968.0
1

2.5C-2V

75+3

66+2

69 +4

52
1,000
145.0
1

3C-2V

75 ± 3

66+2

67 ± 3

42
1,000
91.
1

3C-2VCS

75±3

66+2

67±3

42
1,000
256.0
1

3C-2VS

75±3

66+2

67±3

43
1,000
100.0
1

5C-2V

75+3

66+2

67 +3

27
1,000
36.
1

5C-2W

75+3

66+2

67 +3

27
1,000
36.
1

1.5D-2V

50+2

66+2

100±4

85
1,000
110.0
1

2.5D-2V

50+2

66+2

100+4

45
1,000
36.
1

3D-2V

50+2

66+2

100±4

46
1,000
33.
1

5D-2V

50+2

66+2

100+4

27
1,000
12.
1

5D-2W

50+2

66+2

100±4

27
1,000
12.
1